New Cabin
Introduced in 2009, the "Inspiration of Japan" cabin features included fully-lie-flat-bed business class seats, nearly enclosed first class suite seats, fixed shell back seats in both of its economy classes, a new AVOD in-flight entertainment system (based on Panasonic Avionics Corporation's eX2 IFE system with iPod connectivity, in-seat shopping and meal ordering as well as cabin touchscreen consoles) as well as improvements to its in-flight service. ANA will also introduce a new lounge (which opened on 20 February 2010, supposed to be in coincidence with the introduction of new aircraft interiors but delayed [see below]) and check-in concept (later in autumn 2010) at Narita for first class and ANA Mileage Club's Diamond Service elite members.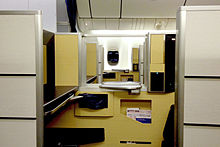 The introduction of the concept also discontinued the use of the name "Club ANA", which was used for its international business class seats (changing into a generic business class name) as well as the name of the lounges (all lounges for both first class and business class are named "ANA Lounge", with the first class lounge called the "ANA Suite Lounge" and its arrival lounge the "ANA Arrival Lounge")
This "Inspiration of Japan" concept was originally set to debut on 20 February 2010 with the delivery of its new Boeing 777-300ER prior to that date, followed by the introduction of the concept on that date on the Narita-New York route. However, due to delays to the new premium economy seats, the debut was pushed back to 19 April. (The delay was due to the failure of a safety test in Japan of a new seat design axle, made by seat manufacturer Koito Industries Ltd. This safety test failure also affected deliveries of aircraft to be operated by three other fellow Star Alliance members – Singapore Airlines for its A380s, Thai Airways' A330s, and Continental Airlines for new 737-800 deliveries.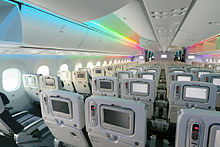 The "Inspiration of Japan" concept has been refitted on its existing 777-300ERs for service on all the airline's North American routes, and may be refitted on its European routes. Parts of it may eventually be phased into its existing Boeing 767-300ERs in service as well as the upcoming Boeing 787s in order.
Since February 2010 ANA offers women's-only lavatories on international flights.[109] The first Boeing 787 the airline received have the bidets in both economy and business class lavatory.
Inflight Magazine
ANA's inflight magazine is named Wingspan and is available both on board and as a freely downloadable application for Apple's iPad. The iPad version is named 'Virtual Airport' and includes content from Wingspan as well as links to airline booking and online check-in pages.